Learning, Together
Our learning sessions bring communities together to innovate
Homelessness is a complex and constantly shifting problem. To solve it, communities need more than a fixed recipe— they need new, more flexible ways of problem solving, designed to tackle problems as they evolve. While conditions vary across contexts, local teams can learn from one another and use similar ideas, skills, and tools to make sense of complexity and drive reductions in homelessness.
 
That's why three times a year we convene Built for Zero Learning Sessions: high-energy, two-day experiences that draw on our data and facilitation expertise to help participants learn new skills, partner with peers, innovative collaboratively, and take bold action quickly.
 
Each Session starts with a facilitated data dive, as we help communities look at their numbers from the past four months. We provide analytics support and a structured process that helps teams make their own determinations about strategy. This helps communities set ambitious new goals and break these down into concrete action plans.
 
After goal-setting, teams attend expert-led training and "bright spot" sessions hosted by community leaders who share successful strategies. By the end of day one, teams know exactly what they need to accomplish in the next four months, and they've loaded up on new ideas to help them do it.
 
Next it's off to cohort time, where communities partner with other teams at similar stages in their respective journeys. Cohort time is a heavily facilitated space where communities work together to integrate everything they're learning into concrete, testable, and measurable work plans before returning home.
 
At all stages, our facilitation is geared toward creating the conditions for innovation. Every aspect of the Learning Session is planned with this in mind— from designing exercises that will lead to better brainstorming, to creating an agenda around relevant challenges communities are facing.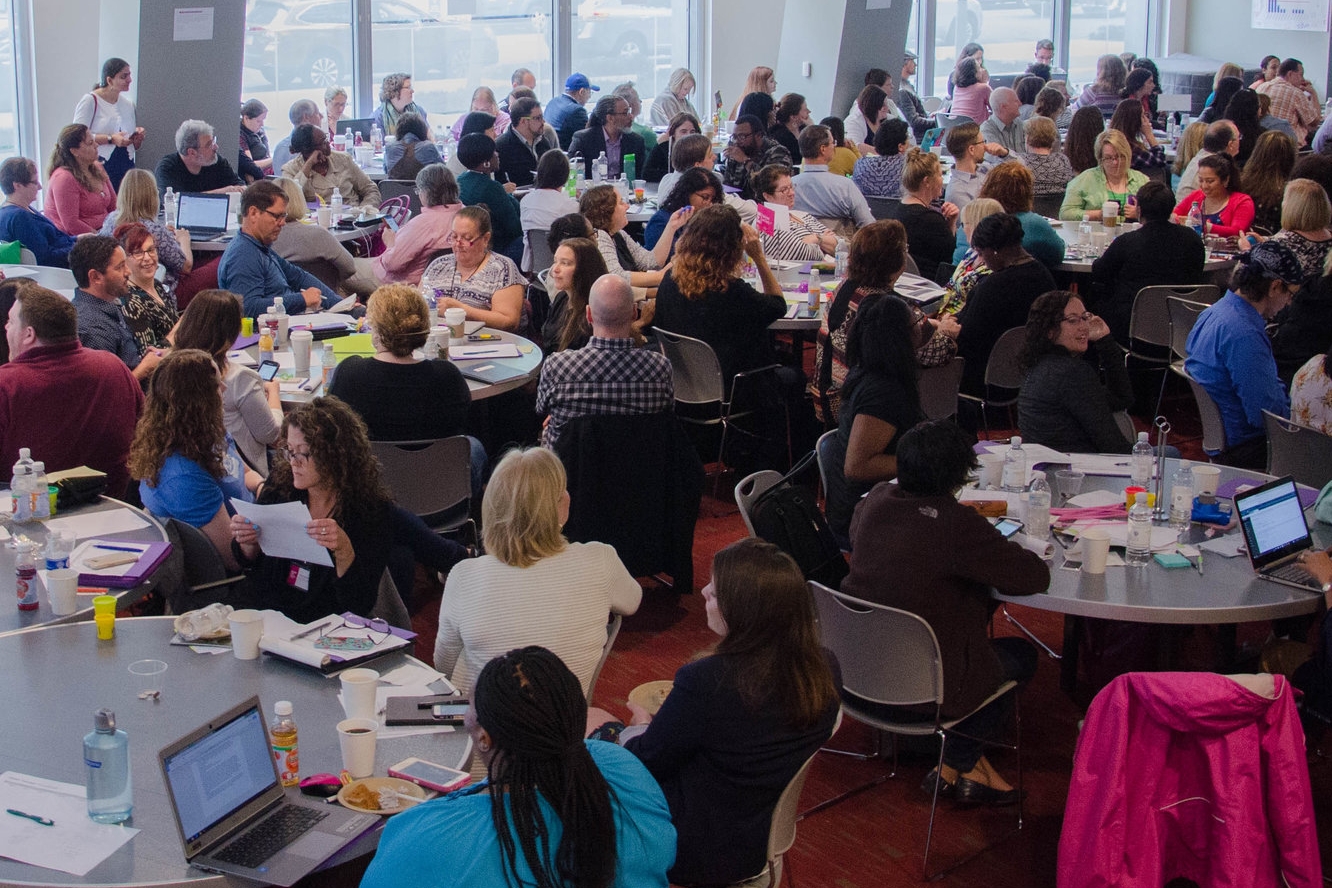 People attended one of our Learning Sessions last year
"We want to build mechanisms that rapidly share and spread what's working with communities that are tackling the same problem, in order to speed up the rate at which good ideas are disseminated across the country," says Nate French, a Portfolio Lead for Built for Zero.
 
Built for Zero communities are challenging norms, disrupting established ways of working, and coordinating stakeholders from many different organizations to work toward a large shared goal. Coming together with other people doing this work can be energizing and even cathartic.
 
"What so many of our communities are doing are things that people haven't done before," says Nate. "The Learning Sessions breathe new life and energy into their teams."
 
To cement that energy, we close each event with appreciation— the fuel of large-scale change. The progress wall is a sprawling map displaying where each community is in its journey toward functional zero. Throughout the event we update the wall, moving each community's marker forward to reflect the advances it has made and close the session by presenting awards to each community that has reached a key milestone on its path to zero.
 
Communities return home reinvigorated, full of new ideas, and propelled by the power of peer learning. This rhythm of innovation— strategy and action— is the lifeblood of our work with communities, nine of which have already ended chronic or veteran homelessness. Many more are on their way toward these goals.